Press Forward Funding Opportunities
Press Forward is a coalition of funders committed to revitalizing local news across the country. All investments are guided by the funding priorities below.
Opportunities to apply for funding and share your organization's mission with funders will be shared in 2024.
How Press Forward operates
---
Coalition funding will be distributed in three ways: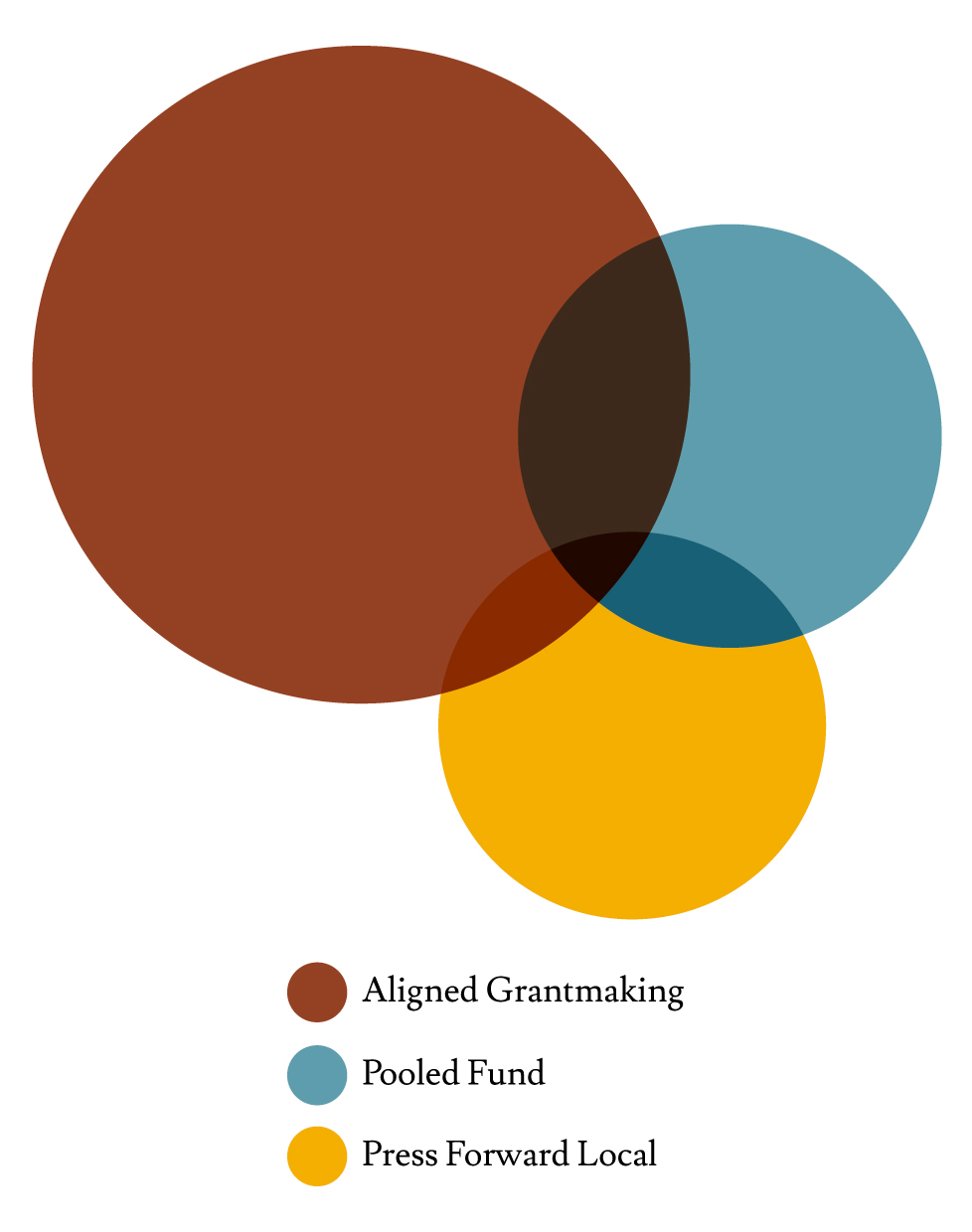 Aligned Grantmaking
The bulk of funding committed to Press Forward so far is being invested through Aligned Grantmaking, where individual funders give directly to local news initiatives. Press Forward will provide a platform to enable funders to coordinate aligned grantmaking to local news organizations or issues areas (local climate reporting, local health reporting, etc.).
Funding announcements will be made over time, starting in December 2023.
Pooled Fund
A number of Press Forward coalition partners have come together to contribute to a national pooled fund for local news, housed at The Miami Foundation. For national funders without dedicated journalism program officers, the pooled fund model provides a seamless giving channel and a way for donors of all sizes and types to partner in a shared effort.
Information about funding opportunities will be shared in 2024.
Press Forward Locals
These emerging chapters offer a new opportunity for funders to work together to address specific, local information needs. Each chapter has committed to supporting a local pooled fund or investing in news collaborations that build common purpose and strengthen the local news ecosystem.
Our Funding Priorities
All Press Forward funding will be given in one or more of the following areas:
Strengthening local newsrooms that have the trust of local communities
There is a growing movement of community-focused journalism across the nation that is shifting how the critical stories of our time are being told. We need to make bold investments in local news organizations and the networks that support and grow them.
Accelerating the enabling environment for news production and dissemination
We need to scale the infrastructure required to support a thriving, independent local news sector, expanding shared services and tools—from legal support to membership programs.
Closing longstanding inequalities in journalism coverage and practice
We must move resources to newsrooms and organizations that are improving diversity of experience and thought along with the availability of accurate and responsive news and information in underserved communities and economically challenged news deserts.
Advancing public policies that expand access to local news and civic information
We need new frameworks and robust coalitions to advance policy ideas that expand access to news and information while strengthening the First Amendment and protecting the independence of local journalists.